When is a broom also a rake?
When it's an Eco Max Coconut Palm Broom!
The magic of this broom/rake is the natural fibre that it is made from.
Traditional Rakes are made from plastic or wire, with large gaps between the prongs. These gaps stop them functioning as a broom.
Traditional Brooms, no matter what they are made from, are denser so they can sweep. However, because the fibres are softer they will not work as a rake.
The Coconut Palm Broom has the natural strength and flexibility of the centre rib of the palm frond so it can work as a rake and the density of the fibres allows it to sweep like a broom.
Plus it looks so beautiful you will want to hang it on your wall.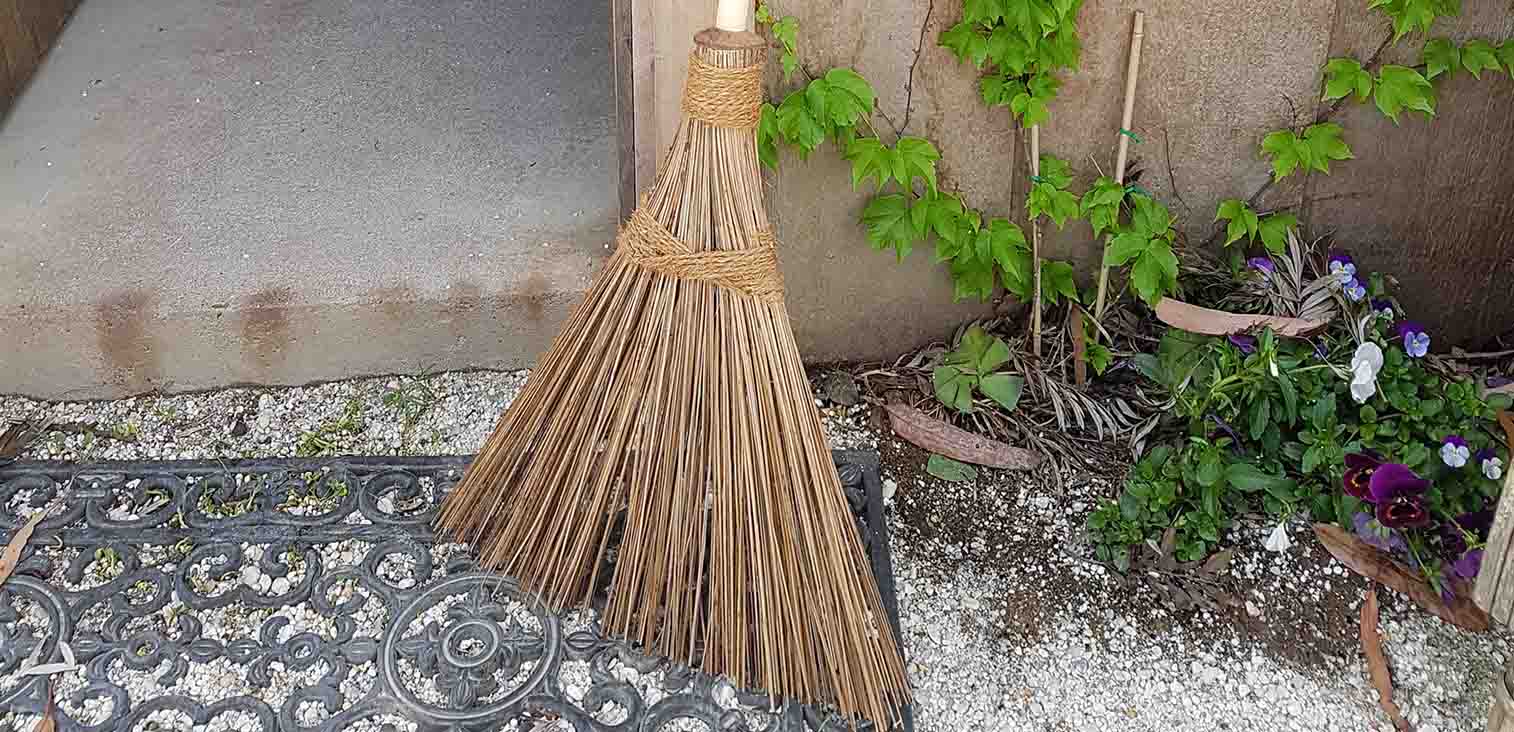 So why are Palm fronds so strong?
If you think about it, palm leaves are strong enough to bend and flex in cyclones and they do not easily rot. The strongest part is the centre rib of the leaf and it is this that is used to make the brooms.
The fallen leaves are collected and stripped back to the centre rib. Then these are bound together with coconut fibre rope around a FSC (Forestry Stewardship Council) certified timber pole, caped with a coconut shell.  Coconut rope is woven through the ribs to spread them creating the flattened shape. This narrow edge allows the Coconut Palm Broom to be turned sideways to easily sweep edges and between pavers.
And it has SO many uses
– you can rake leaves and twigs without tearing up the grass. Even heavy, wet grass clippings are easy to rake up
– Removing leaf litter from garden beds, even between plants is easy when you turn the broom sideways
– Use like a broom on pebbles and paths with enough density to sweep fine particles
– On rough surfaces, the flexible bristles quickly and easily sweep
– Sweeps doormats and timber decks, turn sideways to get between the boards
– Stays firm and strong when wet and will not disintegrate with heavy use
– It is lightweight and so easy to use
Eco Credentials
The Coconut Palm Broom is ethically handmade in Sri Lanka from nothing but natural materials. It uses waste products, the fallen leaves to create a sustainable long lasting broom.
But don't take our word for it.  Take a look at the video or better still try one yourself.