Our ECOMAX Brushes are handmade in Sri Lanka by a small family run business that prides itself on crafting beautiful, sustainable, handmade brushes whilst providing much needed employment and skills training for local women.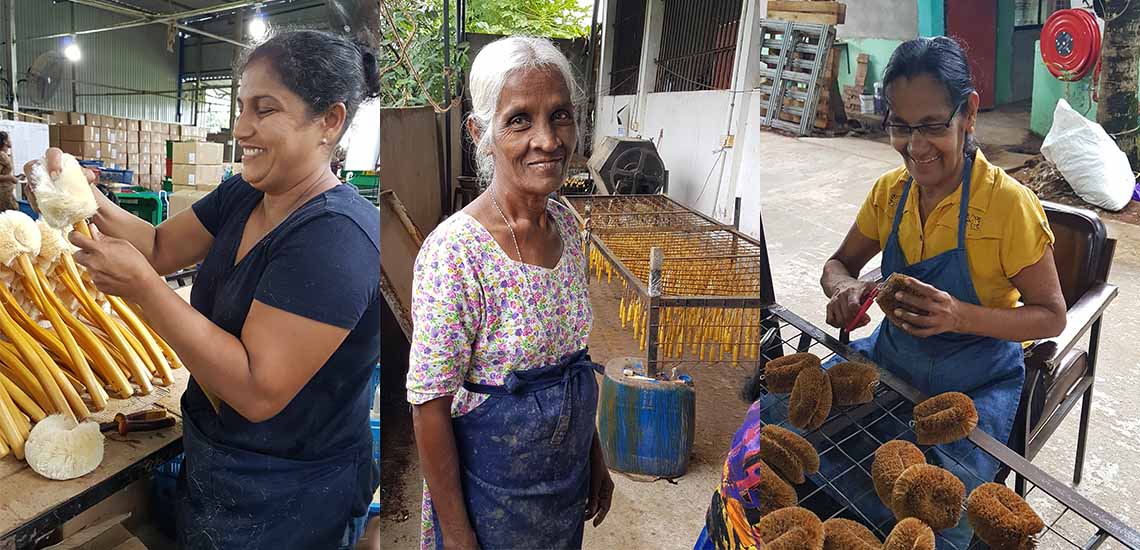 Alongside the main factory located in Wattala, just north of Colombo, a new factory has been added in the rural area of Kurunegala. Both of these facilities provide a safe work environment featuring large, open spaces allowing adequate light and ventilation with separate dust free areas for packing. The women are trained in each area of the brush making process from twisting the natural fibre heads to lacquering the wooden handles and all the bits in between. Combing the long shanks of raw fibre, cutting them to the correct lengths for each style of brush, trimming and finishing the final product, tying of cords and labels and finally packing them into these boxes to ship to us.
The women artisans earn a living wage and have access to a bonus scheme to encourage progress, while additional money is also put aside for their retirement. The needs of the women are catered for throughout their working life by providing easy transitions from work at home, part-time and full-time work. These opportunities allow women like Rukmani to raise their children, care for their elderly and look after their families at all stages of their life.
When the business first started, they set out to provide employment opportunities to a group of women living in a nearby, flood prone, shanty town sandwiched between the railway line and a new express way close to Wattala. Using some money set aside from the Fair Trade premiums paid on the ECOMAX Brushes and after extensive negotiations with local government the women and their families have now rebuilt their homes on new land that is not flood prone and with better access to facilities.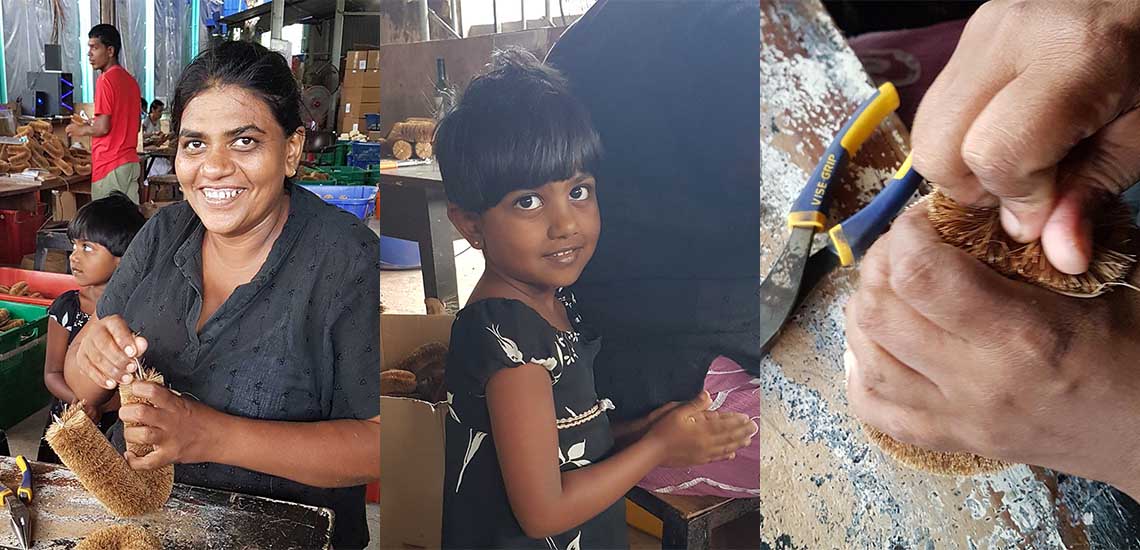 Free child care has been a huge benefit for Deepa and her three children
As the sales of ECOMAX Brushes has grown, so too has the workforce. There are now women of all ages crafting our ECOMAX Brushes, from Sachini at 17 to Kumarapeli, who at 72 years of age is our oldest member of the team. Kumarapeli's 20 years of brush making experience means she is an invaluable asset and able to pass on the art of hand twisting fibres to those less experienced team members.
With the growing team the need for childcare become a new priority and a brand-new on the premise facility was completed in mid-2019, providing the women with free day-care for their youngest children and after school care for their school aged children. This has given the women the opportunity to return to full-time work when they are ready after starting a family knowing that their children are being cared for and educated close by. The centre is also providing their school age children with English lessons ensuring that they have the best opportunities for the future.
Fair Trade makes a difference to our brush makers and with your support we have helped to fund the creche and provide toys and learning resources for the children. As proud as we are with these achievements we are just as passionate about natural alternatives to plastics which is why all our ECOMAX Brushes are made from nothing but plant fibres. We believe that it is the choices you make that create the world you want to live in. We believe in the power of positive change to a more sustainable, ethical and just world.
So join us today for a zero-waste ethical world tomorrow.