Our small local businesses have been doing it tough over COVID19 so isn't it time we showed them how much we appreciate all that they do and support them in return. After all we all lose more than you think without them.
The lockdown affected everyone differently and that has been the same for small business. But no matter how each store has been affected they all need our support to recover and to continue being the amazing businesses they are, so they can keep providing the goods, services, entertainment and love to their communities that we depend upon. We would miss them all more than we know if they were no longer there.
What is small business?
By definition a small business is a commercial enterprise that employs less than 20 people. But this definition misses the heart of what small business really is. It is the life blood of many suburbs and towns in Australia. Small businesses are the glue that holds communities together. They create the high street in your town, providing not only somewhere to shop but somewhere to socialise. They are the little shops that provide targeted goods and services that cater to your specific area. The small entertainment venues, the coffee shops, fashion shops and restaurants, the donators and supporters of local schools and sports clubs, the innovators and the creators of local jobs.
Any way you look at it, small businesses punch way above their weight and without them our suburbs and towns would be a far different place.
The figures tell the story
When you look at the current employment figures, there are 2.1 million actively trading businesses in the country, with 97 per cent having fewer than 20 employees, according to the Australian Bureau of Statistics (ABS).
Small business has continued to employ the greatest number of people; employing 44% of the total private sector workforce. This is significantly higher than both medium enterprises, which employ 24%, and large businesses which employ almost 32%.
And economic wise, small businesses account for a significant chunk of the economy – 35 percent of all value generated in Australia and a fifth of the nation's gross domestic product, according to the RBA.
The latest available data from the ABS (2016-17) shows that there were around 5.6 million jobs held throughout the year in the small business sector. That is just below half the jobs created in the private sector. As the graph below shows, small businesses are a very important part of our economy.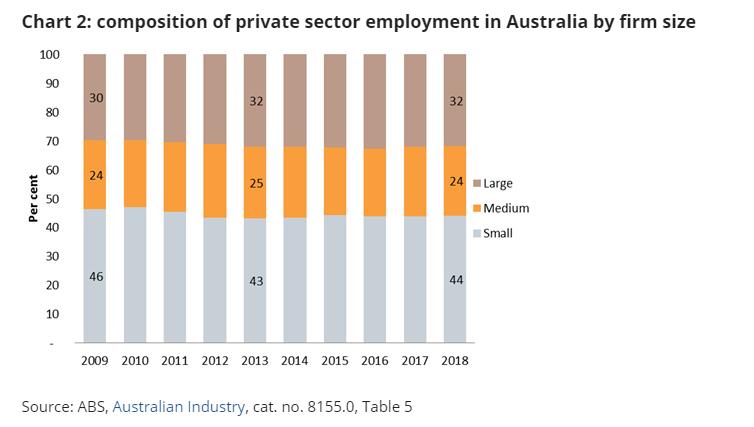 The innovators of today and tomorrow
Many of the most innovative ideas in Australian business come from small enterprises working hard to change their industries. The definition of an innovator is a person who introduces new methods, ideas or products which is essentially what small business is all about. So it is no wonder that 60% of small businesses engaged in innovative activity in 2013-14 (ASBFEO, 2016).  Being smaller these businesses can move faster than larger companies to adopt new ideas and products and are more willing to take a chance on ideas they believe in.
With all the hype about start-up businesses, they are essentially small businesses run by entrepreneurs pushing boundaries in a diverse range of fields including the tech industry.
Small businesses create change and introduce new ideas into new areas. They push boundaries and head movements for change and circulate these ideas across the country. Young entrepreneurs moving back to rural towns bring ideas with them, introducing trends from cities and creating jobs for themselves that grow into jobs for rural areas that attract tourists and can reinvigorate towns. Industries like micro-breweries, organic stores, artisan bakeries and eco-tourism. Small businesses take chances and the people behind them create these businesses as much for work as they do for a lifestyle and for passion.
The trainers of our young
Small businesses provide for our future by being the largest trainers of our apprentices and trainees. In fact they train 33% of our young workers. This important fact shows how much small businesses put into the future of our communities.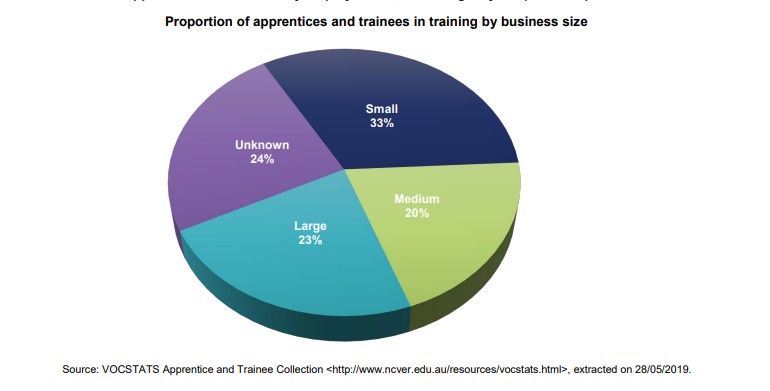 And they do this with less government support than large business which access more government assistance than any other size business, 42.6% compared to only 16% for small businesses.
Small businesses are big contributors to their community
Your local businesses often live and raise their families in the communities they work. They are invested in their communities so it is no wonder that according to Philanthropy Australia, 99 per cent of small to medium-sized enterprises donate their time, money, goods and services to charitable causes.
In the year 2015 – 2016 alone, they donated $8.5 billion to community organisations with the common reasons cited for donating, the need to demonstrate commitment to the local community and a personal connection to a cause.
These donations of time and money are often the only thing that allows our local community organisations to continue and without them we would lose valuable local resources.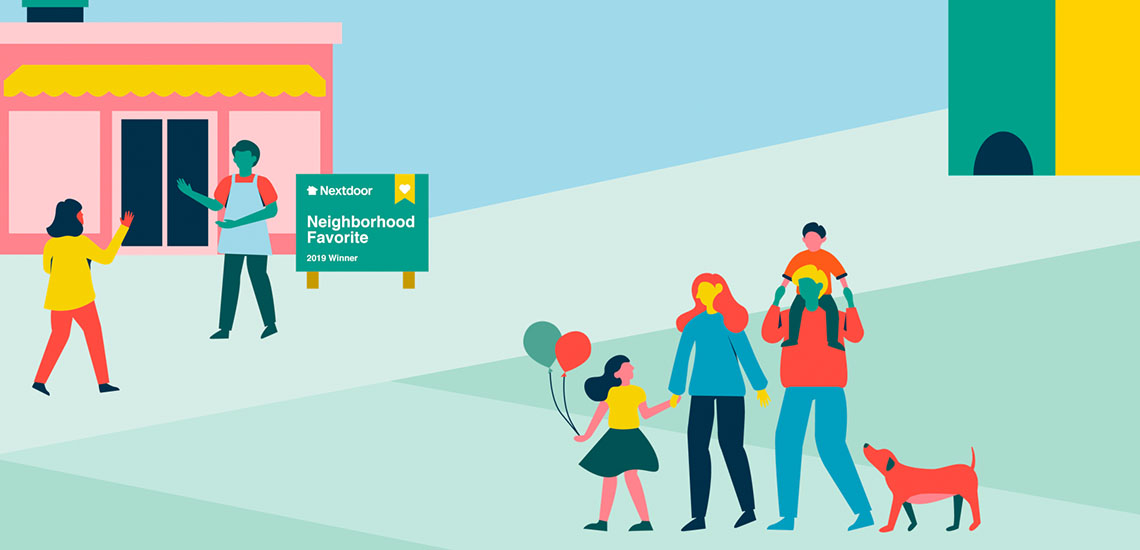 Big isn't always better
We are all individuals and so are small businesses. Unlike chain stores with their one size fits all approach small business adapt to reflect their community's needs. You may find that a produce store in Moruya has a great deal on chaff for cattle where as one in Fitzroy has bulk oats for your winter porridge, while a corner store in inner city Marrickville might stock an artisan bread, fishing bait will be a must in Gladstone. Our smaller businesses provide what we need and want locally and change to reflect the changing needs of our community.
Don't buy into the lie
You often hear that things cost more from small businesses; this is just not true when you factor in the hidden costs. Sure a large chain supermarket might often advertise specials but the real cost of that sale price is hidden. The burden of the discount is placed on the growers and distributors that are forced to take a cheaper price for their goods and often pay the cost of the supermarkets advertising.
Then you have a large proportion of the multinationals profit that goes overseas. A very interesting look at this is "The surprising journey your money takes after buying a pair of Nikes" a great graphics display by ABC news.
Large businesses are masters at hiding profits so as to not pay their share of tax, by shopping small you are helping to fill those potholes and provide air-conditioning for schools.
Another measure of the success of Small Business is their contribution to gross value added (GVA) which measures the increase in the value of goods or services as a result of business activity. You can see in the graph below that Small Business is not that far behind Large Business when it comes to the share of GVA, on average, small business contributed one-third of industry value added and one-third of GDP in 2014, which is quite impressive for businesses of less than 20 people.

The changing landscape
While the lockdown has increased online shopping this new convenience doesn't have to mean we only buy from multinational chain stores, we can all still help our small local businesses. Many small businesses have online shops or sell through Facebook. Take a look at these first. They are more likely to have unique pieces rather than something you see everywhere, they will often offer a free gift wrapping service and you still get the convenience of online shopping. Many small businesses also have an order online and pick up in store service.  Very quick and convenient and shopping locally will save on your carbon footprint.
If you are ordering takeaway, order direct from your local restaurant rather than use one of the delivery services. You get to order from the restaurants full menu and the restaurant gets the full amount for their food rather than being slugged the exorbitant fees of a delivery service.   Even if you do have to pick it up, you get to pick it up hot rather than have it wait around for the next available delivery driver. So many times I have seen food getting cold waiting for drivers, only for the restaurant to be blamed for the cold food and often penalised financially for something they had no control over. Or better still eat in the restaurant. No washing up, no plastic waste and you get a night out and we have all been at home too much lately anyway.
Keeping what we love
With so much to lose if our small businesses don't survive we need to be conscious where we spend our money.
The catch cry for COVID19 was "We are all in this together",  let's make the recovery
"Give big – Buy small"
and support our small businesses.