We are thrilled to discover the winners of the 2023 Clean + Conscious Awards and are proud to say that not for the first time an ECOMAX Brush has topped the list!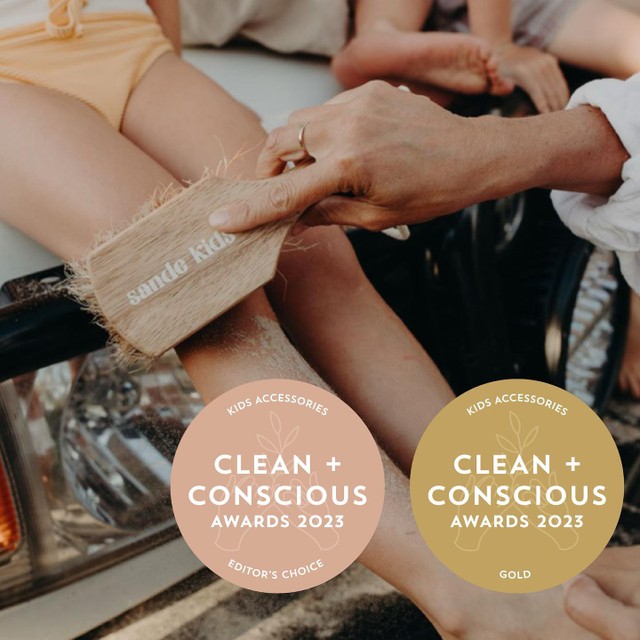 That doesn't look like an ECOMAX Brush I hear you say! Well no, technically it is a Sande Kids brush, we are proud to have worked together with Sande Kids to bring their design to life through our Sri Lankan producers.
The Sande Kids Sand Brush: A Must-Have for Beach Lovers
We want to extend a very big congratulations to Sande Kids for their recent win in the Clean + Conscious Awards for their Sand Brush – a beach brush designed to swiftly sweep wet or dry sand from kids, pets, cars and carpets.
If you are heading to the beach this summer you need this brush, especially if you have small kids and/or fur babies, it makes cleaning a breeze and stops your car turning into a beach after a long day of fun in the sand.
Sande Kids won both Gold and the Editor's Choice awards in the kids accessories category.
We didn't know we needed this until we had it. So great to use after the beach, or for when your kid has mountains of sand in their shoes after spending all day in the sandpit. It keeps sand out of our car (which is my personal nightmare) and our house.

I'm super impressed by the brands work on ensuring a fair trade supply chain in Sri Lanka and their focus on donations that aim to help reduce ocean plastics.

–Veronica Milsom, Clean + Conscious Judge 2023
Kim from Sande Kids came to us at ECOMAX Brushes with a very detailed briefing document. She wanted us to help her manufacture a brush that was –
ethically made,
natural and sustainably sourced
and importantly, would be gentle enough for brushing young, delicate skin.
We worked with our Sri Lankan producers to determine the best mix of fibre and the right block design to achieve Kim's design brief. We also successfully worked with our producers to get the right branding on the brush so you know you have an authentic Sande Kids brush.
Head to the Sande Kids website to check out the brush for yourself!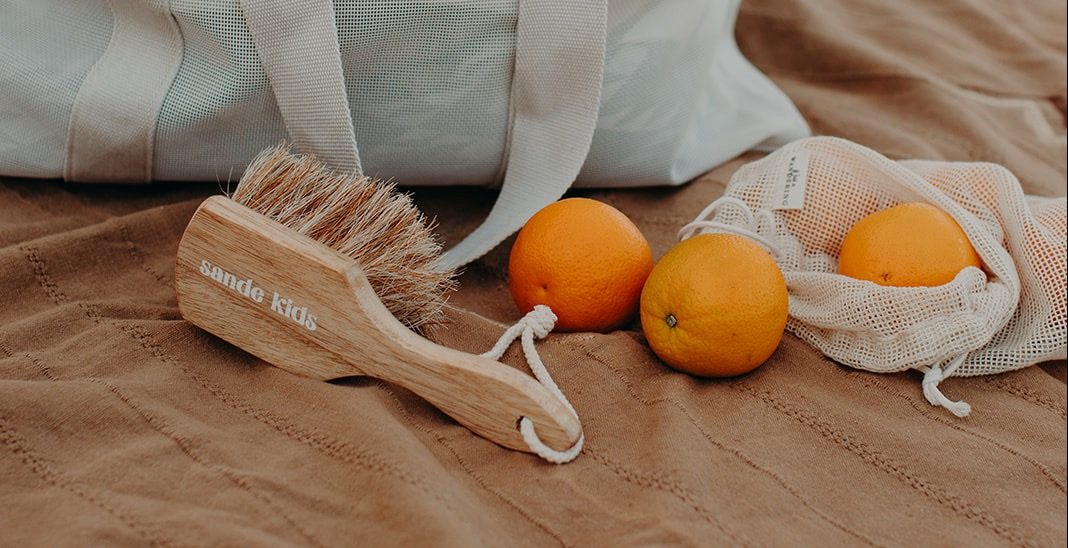 The Honest to Goodness Twisted Scourer: The Perfect Partner for Your Organic Foods
However, the sand brush is not the first ECOMAX Brush to 'clean up'! Honest to Goodness won gold and Editor's Choice in the kitchen category of the Clean + Conscious Awards 2021 for their Twisted Scourer.
Honest to Goodness approached us wanting to create a private label range of natural fibre cleaning brushes to complement their range of organic foods. We were able to show them not only our current range of brushes but also a selection of sample brushes that they were able to choose from to create their own private label collection.
The Clean and Conscious awards celebrate products that are –
clean,
ethical,
sustainable +
responsible.
We are incredibly proud of the team who craft our brushes in Sri Lanka and are honoured that their hard work has been recognised with these award wins and that our brushes are recognised as being ethically and sustainably produced helping both people and planet.
Create your very own award-winning brush
If you are interested in creating a bespoke product or private label range with us at ECOMAX Brushes we would love to work with you. We are happy to share our expertise and help you source your own ethical and sustainable products. Chat with us to discuss your design ideas.